BMW Motorrad Concept 6 – webBikeWorld
The BMW Motorrad Concept 6: Engine
Six-cylinder power units have always had particular appeal, offering not only supreme smoothness and refinement, but also superior power and performance as well as a truly emotional driving – or, in this case, riding – experience.
A further point is that the typical sound of a straight-six almost like a turbine is absolutely incomparable, with straight-six power units at BMW having stood for fascinating engine technology in BMW cars for more than seven
decades.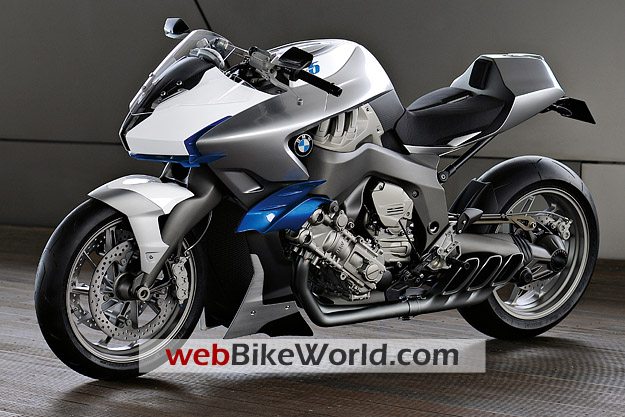 Looking at motorcycles, inventive engineers have also tried time and again to offer the enthusiast the thrilling concept of a straight-six power unit. But while a few engines in straight-six configuration have indeed been fitted in motorcycles both lengthwise and crosswise, the straight-six has never really made a genuine breakthrough neither on production models nor in motorcycle racing.
Depending on the way the engine was fitted, six cylinders in-line inevitably made the engine either very long or very wide, creating disadvantages in terms of the running gear, weight distribution and the center of gravity. A further drawback was much higher engine weight usually setting off the benefits of extra engine power.
The BMW Concept 6 now proves that a straight-six, benefiting from the most advanced construction and production technology, may offer not only unique prestige, but also a supreme standard of riding dynamics.
The new BMW straight-six will further expand the K-Series in the foreseeable future. The first model to be introduced will be an innovative and luxurious BMW touring machine. Reflecting the tradition of the BMW K-Series, this will of
course be a genuine top-of-the-line product.